1 Current Status¶
Now that crosstalk removal has been descoped from the Camera DAQ, there is only one version of the pixel image that can be and needs to be retrieved, rather than two. There are multiple destinations for this image:
Camera Diagnostic Cluster for automated visualization and rapid analysis
Active Optics System (AOS) for wavefront sensors only
Observatory Operations Data Service (OODS) for automated and ad hoc (including human-driven) rapid analysis
Data Backbone (DBB) for long-term reliable archival
For most science and possibly calibration images, Prompt Processing for execution of automated processing pipelines (primarily the Alert Production).
The first four of these are located in Chile at either the Summit or Base. The Prompt Processing systems are located at the LSST Data Facility (LDF), requiring transfer of the pixels over the international network. The desired latency for all of these is generally "as rapid as possible", with the exception of the DBB, which has up to 24 hours. The DBB also transfers data over the international network, but more slowly.
The first four of these are expecting to persist the pixel data as FITS files in RAM disk or persistent file storage (e.g. GPFS); as a result, it makes sense to do the same for Prompt Processing as well, though care should be taken to minimize latencies in order to avoid delaying alert generation. All of these need to ingest the image files into a Data Butler repository to enable pipeline code to access the images using butler.get(). It is currently expected that these would be separate Butler repos. The data ID used for the Butler should include either the image name or group ID and image ("snap") number as well as the raft and detector/CCD identifiers. Each system needs to send an event to indicate that the image has been ingested and is thus available to pipelines.
The current baseline, as implemented for LATISS, has an image writer component of the Camera Control System (CCS) writing to the Camera Diagnostic Cluster. Another instance of this image writer is intended to be configured and deployed for the AOS. The OODS and DBB are fed by the DM Archiver and Forwarders, which are a separate image retrieval and writing system. Prompt Processing has not yet been implemented, but it is supposed to use another instance of the Forwarders. In addition, a Catch-Up Archiver is meant to feed the DBB with images that were otherwise missed, including those taken during a Summit-to-Base network outage.
An independent Header Service retrieves image metadata from events and telemetry, writing a single metadata object for each image that can be used by any image writer.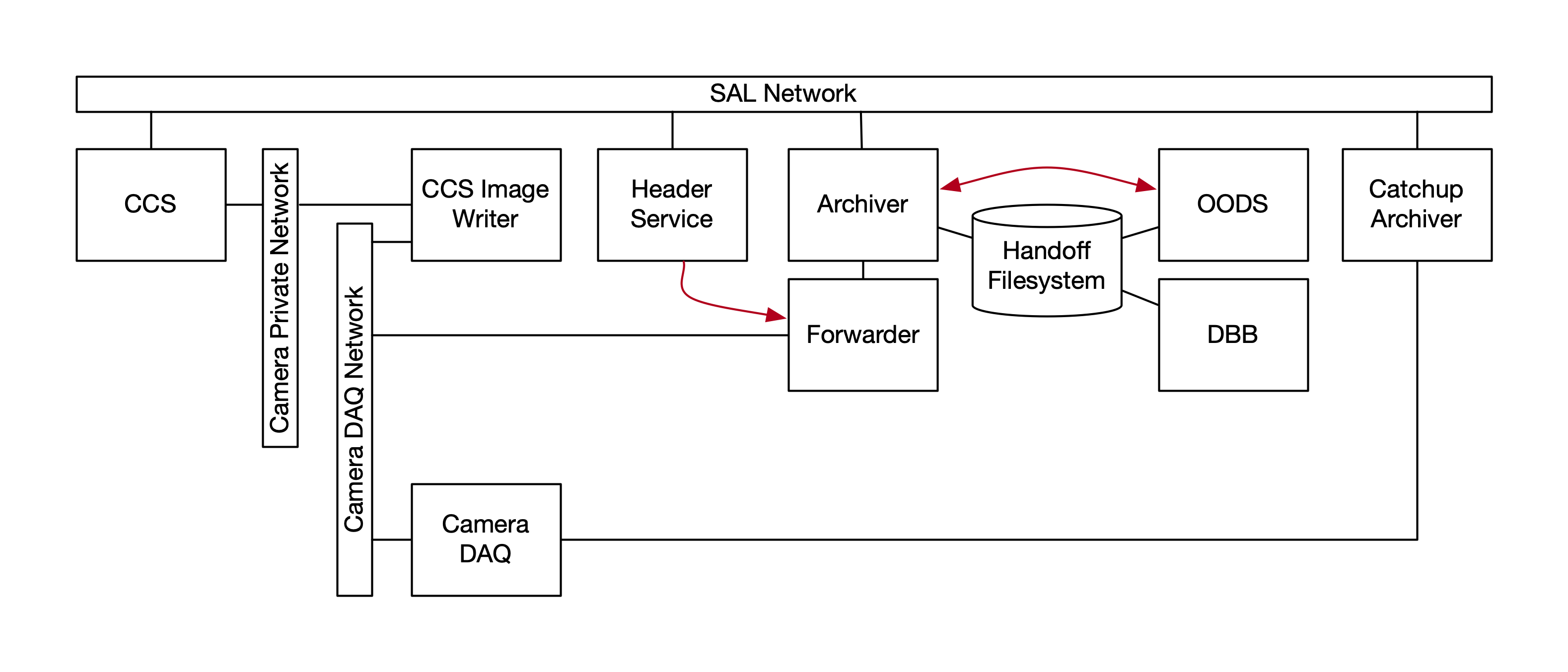 2 Simplifications¶
Can some of these be combined?